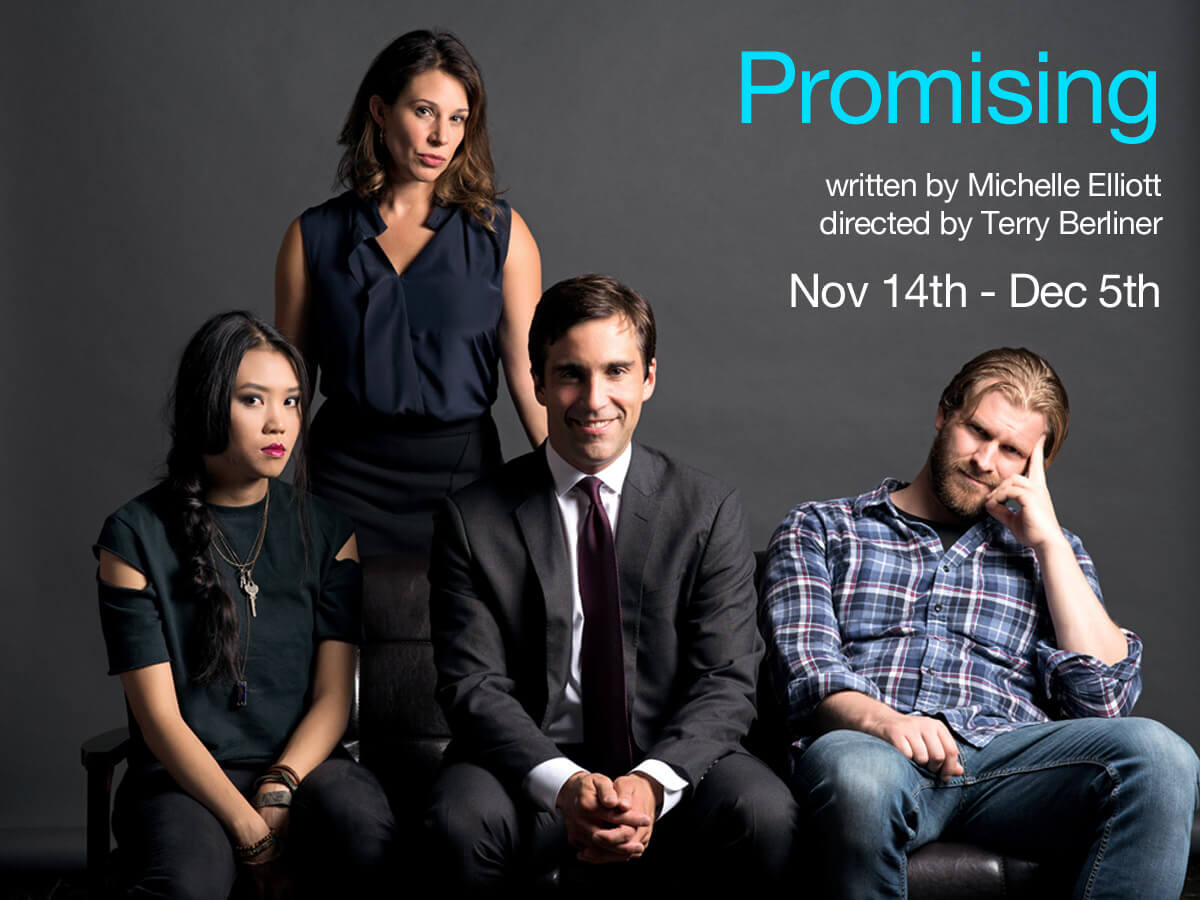 PROMISING is at once a scathingly funny and shocking indictment of our current political climate. Local politician David Carver's meteoric rise has caught the eye of the heavy political hitters in NYC and beyond. But the burgeoning career of the charismatic campaigner is threatened by a startling accusation. With a media circus in full swing just outside his apartment, David and his inner circle of supporters hunker down to strategize damage control for his campaign and to salvage any chance for a long-term future in politics. What no one completely understands, until this day, is how the maelstrom on the outside affects even his most loyal allies within. Beckett Theatre on Theatre Row 410 West 42nd Street NYC
Buy Tickets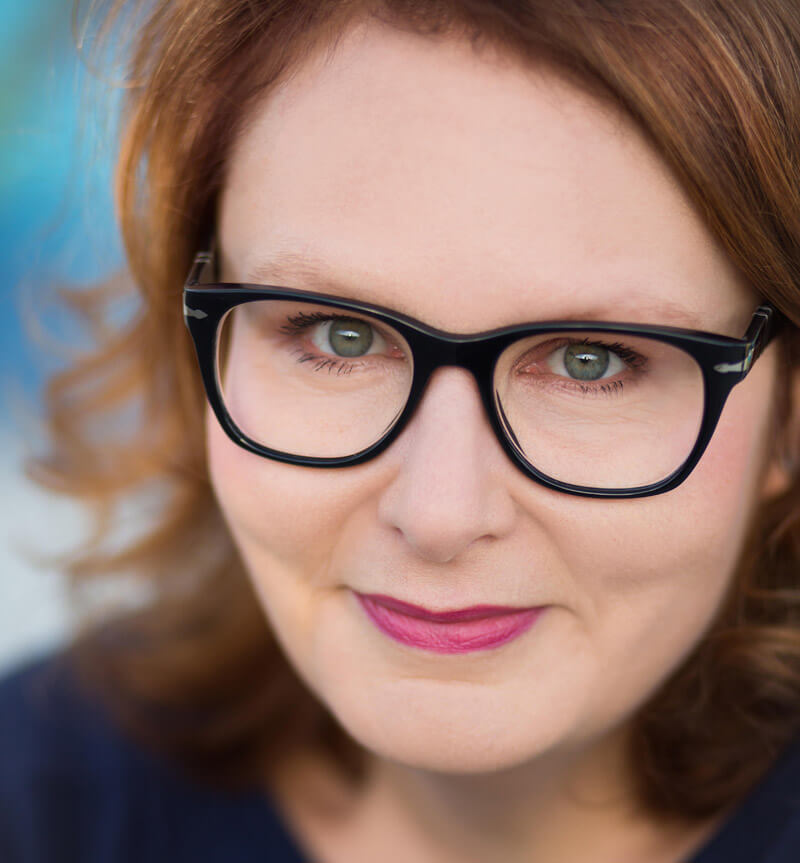 Michelle Elliott | Playwright
Michelle is a bookwriter and lyricist.  Promising is her first play.  She met her-time collaborator, Danny Larsen, while at New York University's Graduate Musical Theatre Writing Program. Together, Elliott and Larsen have written six original musicals, including The Yellow Wood (which received a Richard Rodgers Award and the Daryl Roth Award), CLOAKED (which received the Jonathan Larson Award and for which Michelle was awarded the prestigious Kleban Prize for Most Promising Librettist) and their newest work, Maiden Voyage (working title), a passionate exploration of the lives of women aboard a notorious pirate ship.  With her collaborator, she wrote and produced an online musical for teens in response to the spate of suicides by gay youth called The Hinterlands.  The show can be viewed at
HinterlandsTheMusical.com
and via Youtube. She is currently working on two new plays, Micro Life and The Cradle of Humanity, as well Hart Island, a new musical with her collaborator about New York City's paupers' field. In addition to an M.F.A. from NYU, she has an M.A. in Directing from University of Wisconsin – Superior and a B.A. in Performance from University of Wisconsin – Eau Claire.  Prior to moving to New York City, Michelle co-founded an independent theater company in Minneapolis, Minnesota called Frontier Theatre, where she wrote, directed and produced original musicals. Michelle is a proud member of ASCAP.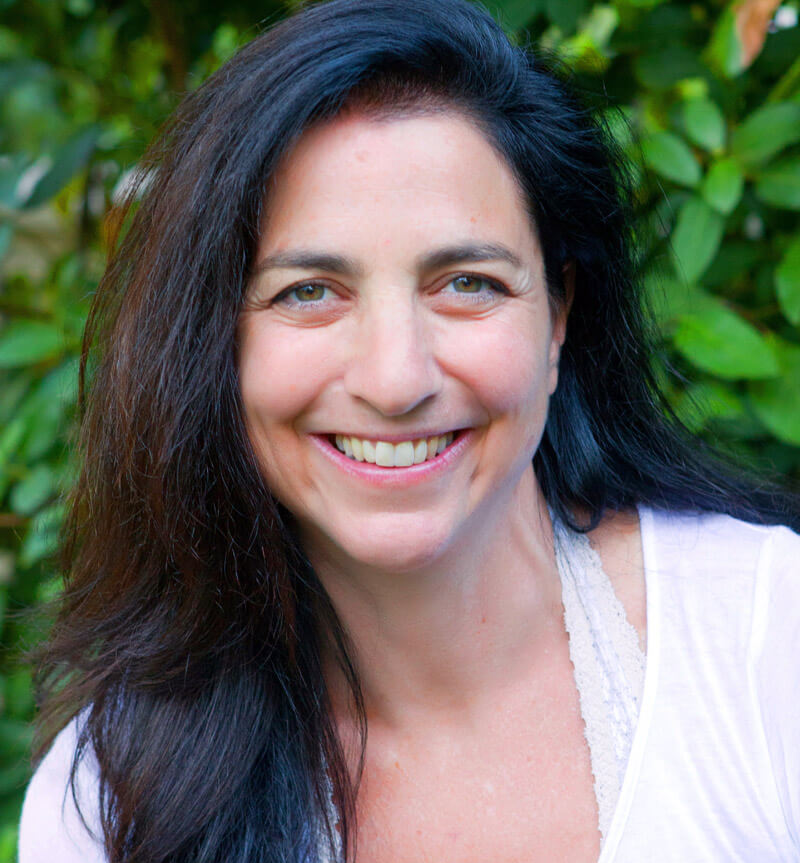 Terry Berliner| Director
Terry recently completed the inaugural season of the North Shore Summer Theater Workshop as artistic director, where she directed The 25th Annual Putnam County Spelling Bee and Live Out Loud (an evening of songs from new musical writers). For 6 years she served as associate artistic director, then artistic director, for LeAp Onstage (a playwriting program for middle and high school students in NYC). As director/choreographer her critically acclaimed, production of Kirsten Guenther and Tony Asaro's new musical, The Cable Car Nymphomaniac, recently completed it's run at the Eureka Theatre in San Francisco, California. Her Broadway credits include The Lion King, The Tale of the Allergist's Wife, The Sound of Music, and The Red Shoes. Ms. Berliner has directed Off Broadway and at regional theatres across the country. She has also directed or lectured at Marymount Manhattan College, NYU Tisch, CAP21, Pace University, the University of Colorado, Boulder, the University of Massachusetts, Dartmouth, North Carolina School of the Arts, and Stephens College. Ms. Berliner has written for American Theatre magazine, Theatre Bay Area, and Theatre History Studies. And, she has participated in the CAP21 2013 Writers Residency and the 2014 Rhinebeck Writer's Retreat. For 6 years, under American Theatre magazine's long-time Editor-In-Chief Jim O'Quinn, she worked as associate editor on The Journal for Stage Directors and Choreographers. Her new musical Alone in the U.S., which she wrote with Bobby Cronin, won the 2014 Outstanding Program of the Year Award at Marymount Manhattan College, and made its U.K. debut in March of 2015. Ms. Berliner is a member of the CAP21 Resource Board of Directors, and, for 5 years, served as a member of Off Broadway's Lucille Lortel nominating committee. She is a member of the Dramatists Guild of America and the Stage Director's Choreographers Society.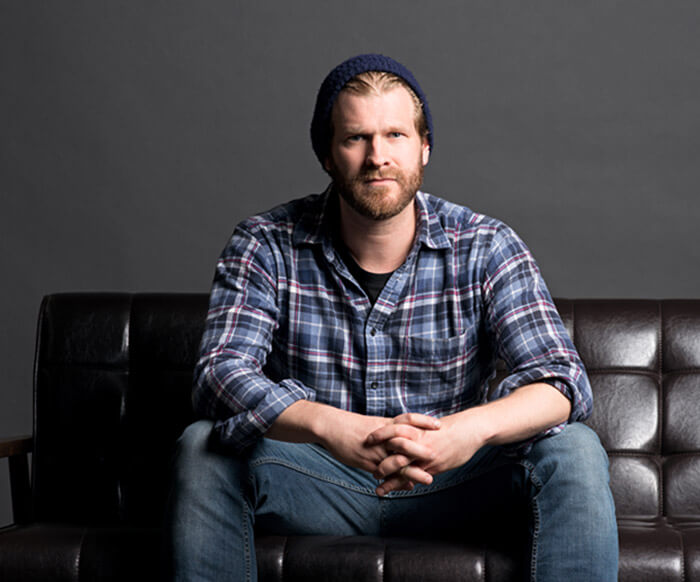 Zachary Clark | SHED
Zachary Clark is thrilled to be a part of Promising! A graduate of Columbia University's MFA acting program, Zach spent most of his high school years in Raleigh, North Carolina. He attended UNCSA's high school program before college. New York Credits include Macbeth at Classic Stage Company and Twelfth Night with the Queen's Players. Regional Credits include Abundance at Triad Stage, End of the Rainbow at the Arvada Center for the Arts as well as Spring Awakening and Measure for Measure with City Lit Theatre. TV: Boardwalk Empire. Zach is a proud teaching artist for Stages on the Sound. As always, Zach would like to dedicate this show to his dear friend Kyle.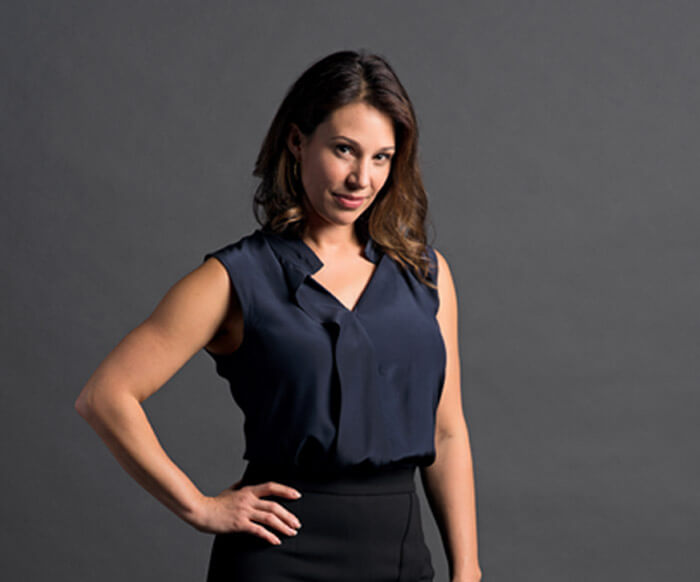 Jolie Curtsinger | VERITY
Originally from Los Angeles, Jolie loves creating theater both as an actor and a producer. She is so thrilled to be doing both in Michelle Elliott's PROMISING and to be working again with director Terry Berliner. Jolie was seen in InProximity's productions of THE FALL TO EARTH directed by Joe Brancato at 59E59, NAVY PIER, THE MAIDEN'S PRAYER, and ORANGE FLOWER WATER. Other New York stage credits include ALMOST, MAINE and ONE THING I LIKE TO SAY IS (Cockeyed Optimists) and The DARE Project (taxdeducitble), as well as readings with Anthem Theatre Company and Penguin Rep. Los Angeles stage credits include the West Coast premiere of Adam Boch's SWIMMING IN THE SHALLOWS, Joe Orton's LOOT, the World Premiere of CHEYENNE, and the US Premiere of Emma Frost's AIRSICK. Jolie is a proud member of the Board of Directors of St. Ann's Warehouse in Brooklyn.  She would like to thank everyone who has joined InProximity on its journey and for their support and loyalty.  She sends special love, light, and gratitude to her husband and two children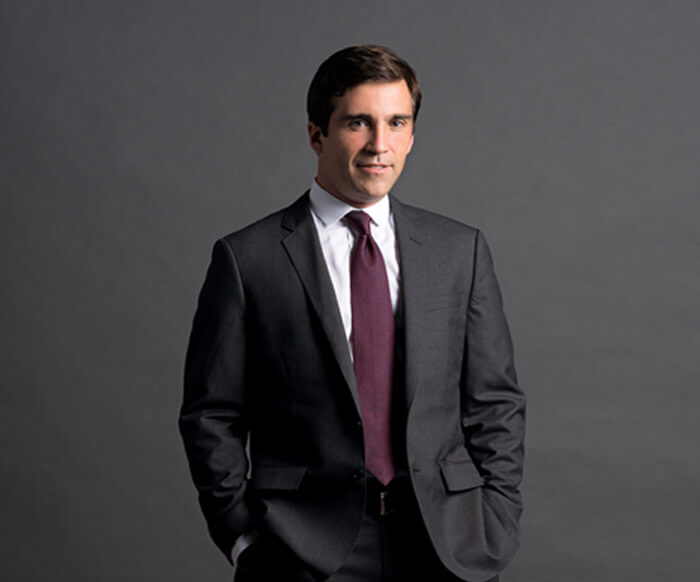 Jake Robards | DAVID
While attending Georgetown University, Jake studied international relations and thought of becoming a lawyer or some day run for office. This background has him ideally cast for his role as a New York City Councilman in Promising. Jake's a true lover of the theater — his career highlight is performing alongside Paul Newman on Broadway in Our Town and subsequently filmed for Showtime.  He has performed in many off-broadway and regional productions and often in the plays of acclaimed American playwright A.R. Gurney. Some of the highlights include The Dining Room and Ancestral Voices. He has performed in the new plays Next Year in Jerusalem, and The Chekhov Dreamsas a part of The WorkShop Theater. He as also worked with The Fire Dept. in the works At War with David Straithairn and Speakeasy with Tony winner Chuck Cooper. In film, he has a lead role in the indie comedy Alto which has been making it's way around the country's indie festivals and has racked up many awards. He also had a part in 2014's Lucky Them with Toni Colette,Thomas Hayden Church, and Johnny Depp. Other film credits include Arranged, the lead in Honeysuckle,  and a modern day part in Cadillac Records where he and Q-Tip were notoriously dropped from the final cut. On TV, he has appeared on "Law and order SVU" as ME Cardillo and on last season's "Alpha House" starring John Goodman.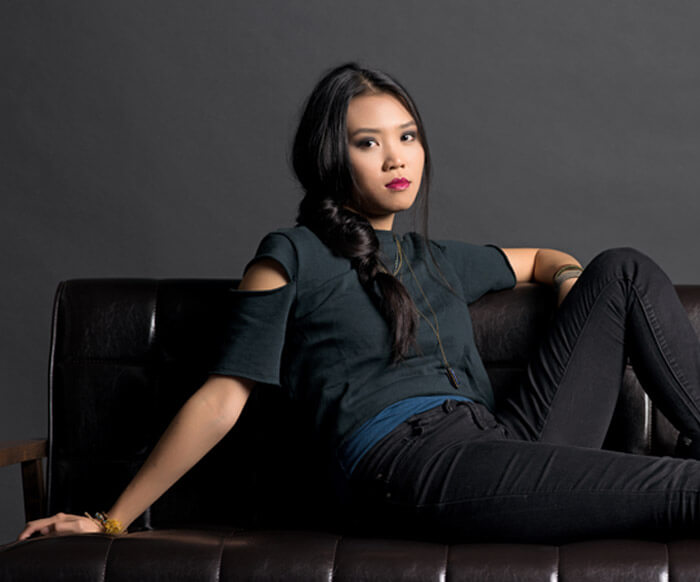 Kim Wong | GEMMA
Kim Wong is thrilled to be making her inProximity Theater debut. Favorite credits include: All's Well That Ends Well (Triad Stage), Much Ado About Nothing (Barrington Stage), Red Flamboyant (Firebone Theatre), Romeo and Juliet and Hamlet (Pennsylvania Shakespeare Festival), Romeo and Juliet (American Globe Theatre), The Philanderer (Pearl Theatre), and South Pacific (STONC). TV/Film credits include: Wizard of Lies (HBO), Blue Bloods (CBS), Deception (NBC), Working Title (Second Star), Text Amy (ProximaMente Films), and Pirates vs. Ninjas (HubTech Prods). Kim was also the Artistic Director of Accidental Shakespeare Company from 2011-2014. BFA: NYU. Love and thanks to John.
Lisa Dozier
General Manager
Scott Stauffer
Sound Designer
Anna Grigo
Asst. Scenic Designer
Cindi Rush
Casting Director
Sarah Rotker
Company Manager
Teresa Snider-Stein
Costume Designer
Ashleigh Walsh
Props Designer
Tracey Fess
Wardrobe Manager
Paul Miller
Lighting Designer
Jean Pacheco Asst.
Costume Designer
Jaime McWilliams
Stage Manager
Red Rising Marketing
Marketing Firm
Kirk Fitzgerald
Lighting Designer
James Fenton
Scenic Designer
Jason Stewart
Asst. Stage Manager